Social Media Marketing (SMM) is a form of Internet marketing that utilizes social networking websites as a marketing tool. The goal of SMM is to produce content that users will share with their social network to help a company increase brand exposure and broaden customer reach.
facebook | instagram | yelp | linkedin| google | twitter
Susan Searway Art & Design has gotten into Social Media marketing and strategy. We work with you to determine where you want to market your services and products be it: Facebook, Instagram, Yelp Business Page, Google Business Page, LinkedIn, Twitter, etc. Susan Searway Art & Design creates a schedule of suggested posts with content, images/videos, and hashtags. Once approved we schedule and implement your posts on a monthly basis on the businesses' social media platforms.
Valentino Fine Jewelers | Social MediaMarketing
Facebook | Instagram | Yelp | Google Business Page
Valentino Fine Jewelers creates exquisite fine jewelry, custom design, repair and restoration services in Novato, CA. All work done in house. Their social media marketing focus on what's new and their custom design jewelry projects.

Clearly Organized | Toni Ahlgren
Facebook Business Page Post | Instagram
Clearly Organized is your source for the design and installation of beautiful and practical custom closets in Marin County, Sonoma County, and the San Francisco Bay Area. Toni also create home offices and garage storage systems for her clients. Clearly Organized social media posts provide organizational tips, before and after projects, and provide a variety of information on how to get organization in your life.

Petaluma Elegant Furniture | Posting Products for Purcahse
Susan Searway Art & Design assisted Petaluma Elegant Furniture by posting their furniture for sale through a variety of social media sites during Shelter In Place: NextDoor, Facebook, Instagram, LinkedIn, Craig's List.
Website & PDFs: 8 day creation to launch website
Social Media Posting: 54 days
Posted 3-5 items for sale each day
736,794 Members + Craig's List
Listed 117  Items for Sale; 111  Sold Items; 6  Items remained
ROI (Return on Investment) 724%; ROAS (Return on Ad Spend) 8.24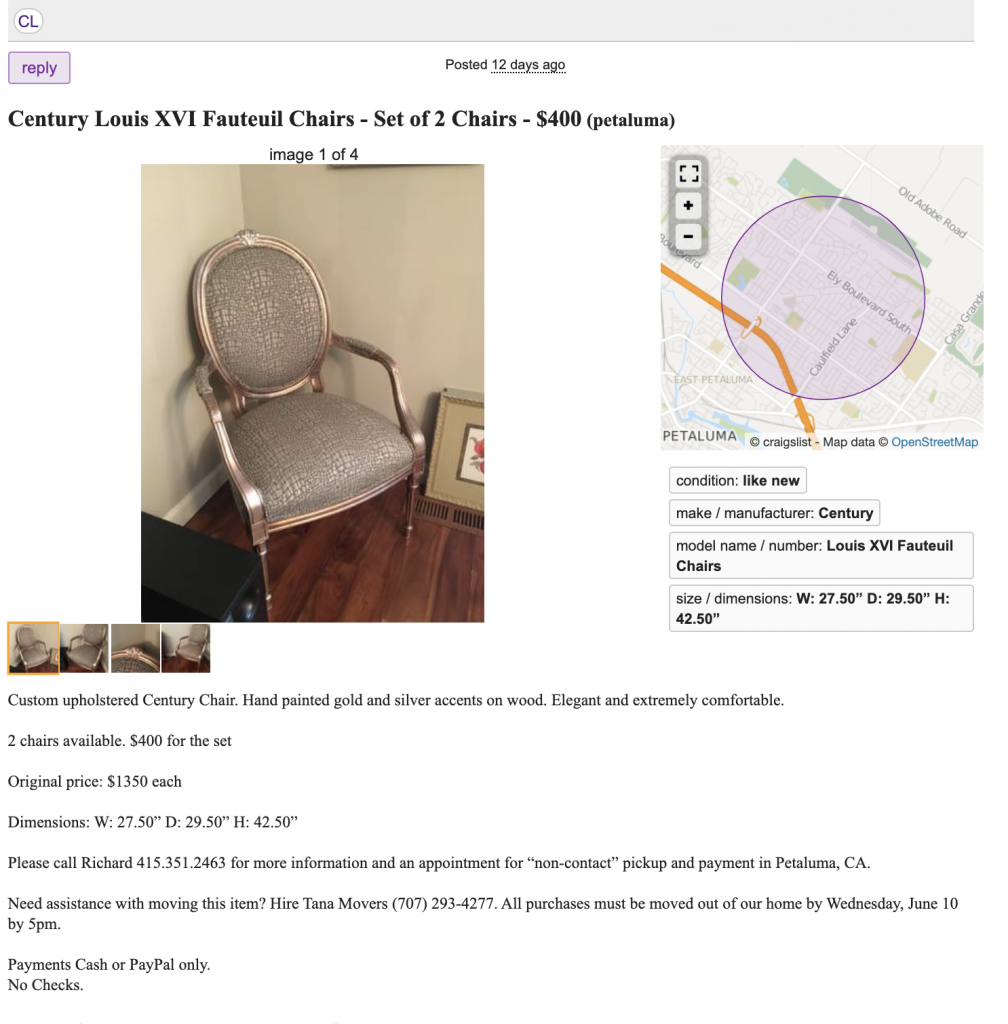 Green Hauling
Facebook Business Page |Post
Green Hauling is a principle centered hauling company that focuses on unmatched customer service and being the greenest service in the market. They specialize in residential junk removal as well as delivering clean debris boxes directly to any job site. Their goal is to make the task of removing your clutter as quick and as painless as possible while disposing of it responsibly.
"I just wanted to thank you again for all you do. You are awesome! This month, based on your work, and the boosted post, we have acquired over 20 customers. I will get you totals at the end of the month. ♡♡♡♡♡♡♡♡ you!" ~ Amy, Green Hauling
Christ Presbyterian Church in Terra Linda
Facebook Business Page | Post
Christ Presbyterian Church in Terra Linda is a worshipping community of accepting, compassionate, collaborative people. We cherish, encourage, and integrate the gifts brought by people of all ages and perspectives.
Mojo Dojo Karate
Facebook Business Page | Post
Mojo Dojo Karate…where you become your best self! Kids and adults have fun learning karate and valuable life skills in a diverse and welcoming community.
Prosperity Circles
Facebook Business Page |Post
Linda Anderson-Henry helps spiritual entrepreneurs make a difference, make a profit and have a life. Clients learn a combination of financial skills & prosperity practices..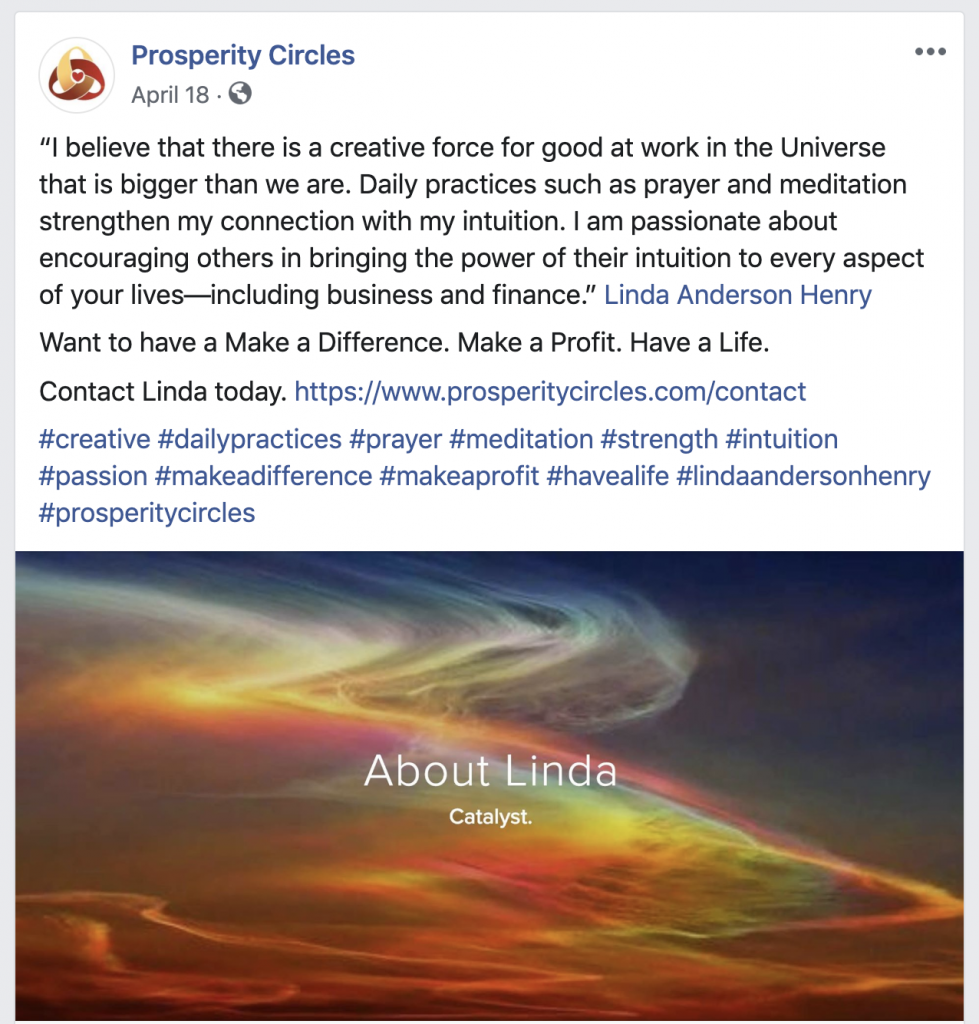 Organizing That Suits You | Karen Marie Pascoe | Facebook Business Page |Post
Personal Organization specializing in Residential/Home Organization, Project Manager for Moves/Relocations, De-clutter, Furniture Arranging, Downsizing, Errands/Shopping; works well with Teens, Adults and Seniors. Experience working with those with disabilities and pain disorders.
"Thank you so much for my fabulous Facebook posts. It is so nice working with you." ~ Karen Pascoe
Continental Jewelers | Facebook Business Page |Post
One of my very first clients – Continental Jewelers – who I maintain their website asked me if I would also maintain their FaceBook Business Page. I said, "Sure" and because of their weekly and monthly posts I am able to also update their website with new designs from the shop.
Engel Geist | Clairvoyant
Setup Facebook Business Page
Susan Searway Art & Design also provides setup of Facebook and other social media pages. We create custom cover images and banners, reformat your logo into square formats, or create custom advertisements at the specified size for each of social media marketing platforms.
Young at Heart Communications, LLC
Setup Facebook Business Page | Design Facebook Cover Images
Susan Searway Art & Design created multiple cover images for Young at Heart Communications, LLC so that she can rotate them through out the month to give her social media pages new looks, feels, and information.